The Romney Hythe And Dymchurch Railway
Jon's Snapshots - Page 1
---
Here are some photographs that I have taken over the years on the railway. Please feel free to copy them if you wish.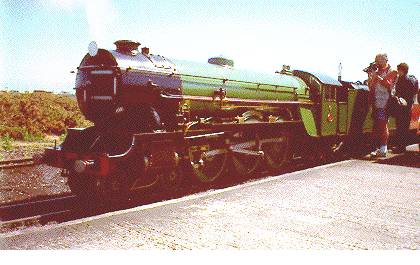 No. 1 Green Goddess - 2 cylinder 4-6-2

Designed by Henry Greenly and built by Davey Paxman of Colchester in 1925, she was named after a favourite play of Captain Howey's. The loco is overscale (1 to 3) for the gauge (1 to 4 approx) but somehow look 'right'. This shot is taken at Dungeness.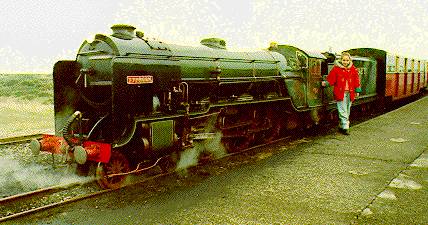 No. 7 Typhoon - 2 cylinder 4-6-2

Originally designed as a 3-cylinder engine, she was delivered to the railway from Davey Paxman in 1927. Considerable maintenance difficulties with the inside cylinder saw her being returned to her makers in 1935 for rebuilding in 2-cylinder form. Seen here at Dungeness with trainee railfan (my daughter) in 1992.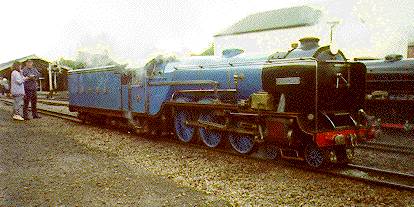 No. 8 Hurricane - 2 cylinder 4-6-2

Delivered from Paxman's in 1927 as a 3-cylinder loco she ran in this form until 1937 when the inside motion failed on a service train. Conversion to 2-cylinder format was undertaken at New Romney. Prior to this she had been Captain Howey's favourite engine, but was 'demoted' and renamed 'Bluebottle', a name which she carried until after the war. She is seen here in the yard at New Romney waiting her turn on a train to Dungeness. In the background is 4-8-2 Samson.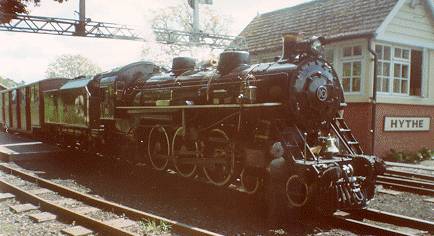 No. 10 Dr Syn - 2 cylinder 4-6-2

Built by The Yorkshire Engineering Company in 1931 mainly using parts already fabricated at New Romney plus a boiler manufactured by Krauss of Munich. Her original tender was of the Vanderbilt type and incorporated a water scoop - it was rebuilt in this form in 1964. The name was taken from a local fictional smuggler and had previously been carried by her sister engine No. 9, now named Winston Churchill. No 10 is seen here departing from Hythe.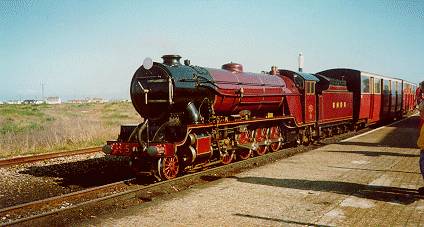 No. 5 Hercules - 2 cylinder 4-8-2

Ordered from Paxman's in 1926 she and her sister loco Samson were built with freight traffic in mind. This never reached expected levels and this combined with operational difficulties caused by their longer wheelbase led to them lying derelict for many years. This engine powered the army's armoured train, a feature of the line during the war years. Seen here at Dungeness.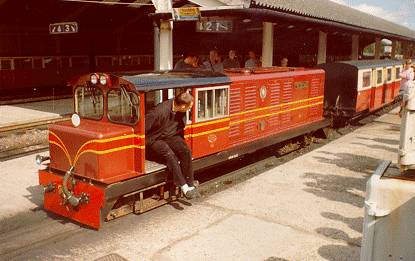 No. 12 John Southland - B-B Diesel Hydraulic

Built by TMA Engineering in 1984, no 12 has a 6-cylinder 112hp diesel engine driving all 4 axles through a torque convertor and two speed gearbox. Although capable of running in either direction she is generally turned to run cab-first. A short run behind her soon demonstrates that she is substantially more powerful than any of the steam locos. She is seen her at New Romney backing on to a Dungeness train.She carries the name John Southland after the founder of a local school.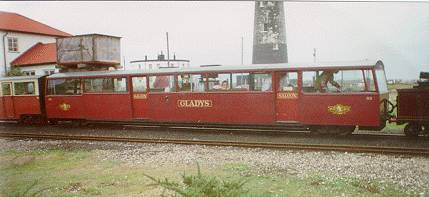 "The Bar Car"

Designed and built by the railway in 1977, she was at the time the longest 15" gauge carriage in the world at 32ft long. Two 8-seat saloons are separated by a serving area.When this shot was taken she carried the name Gladys after Captain Howey's wife. Now (1997) she is nameless in the blue and cream colours of the Eastbourne Bus Company. Note trainee railfan looking out from centre window. The old Dungeness lighthouse is in the background.





No. 2 Northern Chief - 2 cylinder 4-6-2

This locomotive pulled the first official train on the railway - 5th August 1926 - on the occassion of the Duke of York's visit. Here we see her on the turntable at Hythe having just come in with a train from New Romney.
---
Photo's Page 2
Planning Your Visit ¦ Things To See

Eating, Drinking And Shopping ¦ Introduction
Working The Bar Car