My Car
---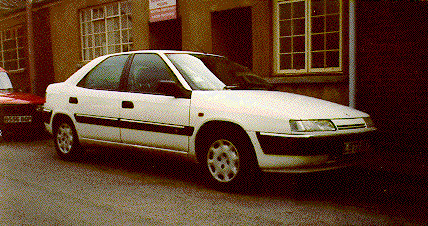 Citroen Xantia 1.8 LX - L972 RWV
The Xantia (pronounced Zantia) was introduced to the UK market early in 1993, replacing the 10 year old BX model. It is available as either a 5 door hatchback or station wagon with a range of petrol or diesel engines driving the front wheels. All models are built at Rennes in Northern France.

Suspension is the unique Citroen gas-oil system available in 3 configurations ...


Standard

Instead of conventional springs and dampers the suspension consists of columns of hydraulic fluid acting on nitrogen-filled spheres - one per wheel. Pressure is maintained by an engine-driven pump. The system is self-levelling regardless of load and the ride height is adjustable.


Adaptive

This incorporates two additional spheres which are switched in and out of the suspension circuit - softening or stiffening it - by a computer which senses pitch, roll, speed, acceleration etc. The driver can select 'normal' or 'sport' modes of operation.

Anti-Roll

This uses what are effectively variable length and variable stiffness anti-roll bars (more hydraulics and computing) to prevent the vehicle rolling while cornering. It really does corner flat.


All engines are tranversely mounted driving the front wheels.

Braking is by discs all round. The front brakes are powered directly from the high pressure hydraulic reservoir. The rear brakes are driven from the rear suspension circuit so that rear end braking is proportional to the weight being carried at the rear.


L972 RWV

| | |
| --- | --- |
| Body Style | 5-Door Hatchback |
| Engine | Petrol. 4-cyl inline SOHC 8V. All alloy with cast iron cylinder liners |
| Capacity | 1761 cc |
| BHP | 103 |
| Gearbox | 5 Speed, manual |
| Suspension | Standard |
| First Registered | 28-Aug-1993 |
| Mileage at 29-Mar-1999 | 175,547 |
Things I like about this car ....
Build quality - no rattles or squeaks at all

Reliability - only 2 day off the road so far

Ride quality

Interior Space

---